How teaching and learning models have changed during the Covid pandemic has been revealed by new analysis from Oak National Academy data by SchoolDash researchers.
In September, the Oak National study found that deprivation levels affected the impact of the online classroom, as in the most disadvantaged Income Deprivation Affecting Children Index (IDACI) areas, only 69.4% had accessed courses by computer, while 78% in the top quintile did.
---
Online learning: Six findings from the Oak National Academy
Disturbance: Oak National Academy distance learning usage soars to 249%
Covid: Schools are told to plan more distance learning
---
SchoolDash has now taken a look at how the Oak National Academy's online classroom has been used by students and teachers during the pandemic.
Oak National Academy: Key Findings on Online Learning During Covid
Here are the main conclusions:
1. Oak National usage declined during the second lockdown
SchoolDash data shows that the number of class starts for students fell from a high of nearly 3.6 million per day in early January to just under 1.4 million in early March, with a temporary decline during the months. holidays from mid-February to mid-February.
"After schools reopen in early March, activity inevitably falls to much lower levels, with weekly peaks of around 50,000 to 100,000 lessons per day," he says.
2. Teacher use shows a different pattern
But for teachers, there are spikes in "shares" at the start and end of each semester, while teacher downloads have declined less as schools reopen.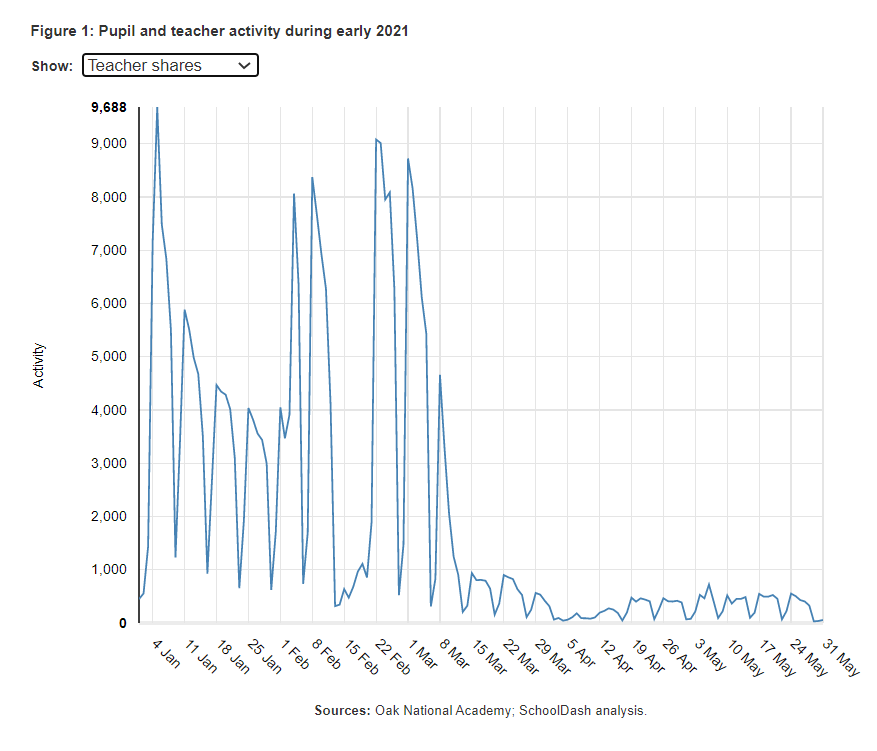 3. Oak was used more by academies
Across all schools, 53% used Oak National, but more high schools used the online classroom than elementary schools, with 49% of elementary schools using Oak versus 74% of high schools.
"This may be in part because high schools found Oak resources to be more relevant, but it is also a consequence of their being much greater, so the likelihood that at least one teacher from each school has used Oak is proportionately higher, "SchoolDash said.
Use in secondary schools varied by type of school. Schools in deprived areas were more likely to use Oak, but use was also higher in academies and denominational schools.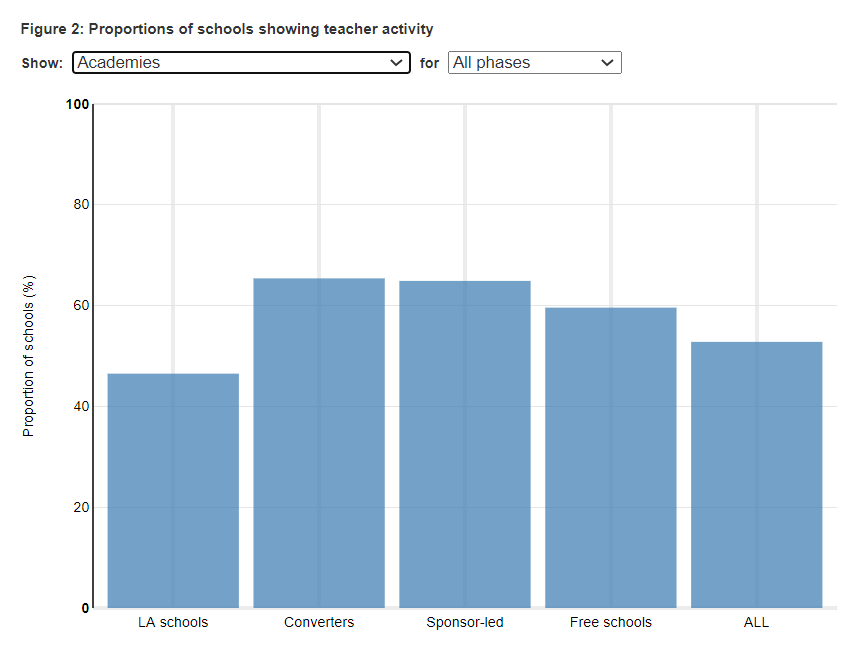 4. Students in poorer areas were less likely to complete a lesson
SchoolDash finds that poorer areas have experienced higher levels of activity in terms of downloads or shares by teachers and class starts for students.
"Despite the school coverage results described above, this suggests that schools and students in poorer areas have made a disproportionate use of Oak's resources," says SchoolDash.
But students in the poorest IDACI quintiles were less likely to watch a video until the end.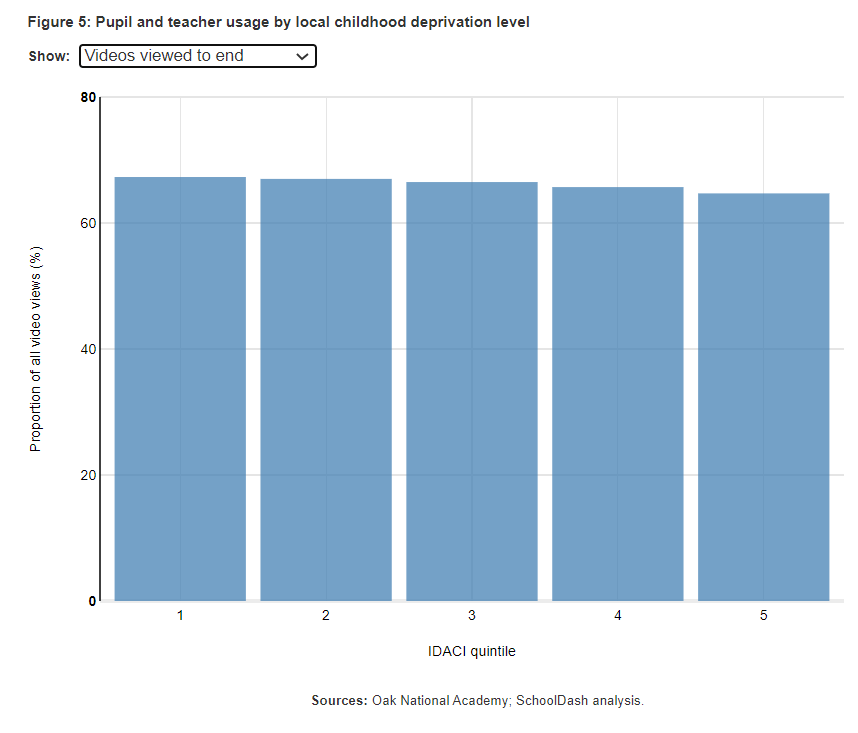 Matt Hood, Principal of Oak National, said that "students in poorer areas are more likely to access a mobile device, and so when we have this national conversation about providing devices to students, the thing as we have tried to keep hammering home, it's not all devices are equal ".
5. Teachers used Google Classroom more than Teams
"Across England, Google Classroom was the most popular choice, with an overwhelming majority in London and the south. It was only in the East Midlands that Microsoft won," says SchoolDash.
Commenting on the findings that Oak was used more by public schools than private schools, Timo Hannay, founder of SchoolDash, said: "Public schools have certainly welcomed the provision of free point-of-use learning resources.
"For independent schools, the benefit of using free resources is more ambiguous because they have to justify their own costs, and compared to that, any money saved is relatively small.
"It is also possible that Oak resources are better suited to public schools, especially compared to independent schools that follow a less conventional curriculum, such as the IB."
Commenting on the overall findings, Mr Hood said, "We are delighted that the Oak National Academy is widely used and appreciated by all types of public schools, at all stages of education.
"The students in Key Stages 2 and 3 participate in most of our classes. Teachers in over three-quarters of public high schools and over half of public elementary schools have shared or downloaded our resources to help with lesson planning and delivery. .
"Our use reflects the nature of the school system, with three out of four high schools now being academies. We are especially proud to provide the most support for students and teachers and to be used the most by them in the most disadvantaged areas (as measured by IDACI).
"Oak has been an incredible local effort, with teachers from all types of schools across the country helping to create this valuable national resource. "